Crowdfunder to Print Graphic Novel Features Contest For Veteran-Owned Small Businesses to Win Spot on Pro Driver Colin Garrett's 11/11 Veteran Project Car in 2024
National Champion race car driver Colin Garrett and the 11/11 Veteran Project announced today that they have partnered with Sensiil Studios, the first Black-Owned Veteran-Owned comic book company in Iowa and Nebraska, for a crowdfunder to publish the studio's next graphic novel, Regicide: Havoc, and promote more Veteran-Owned small businesses through Garrett's racing.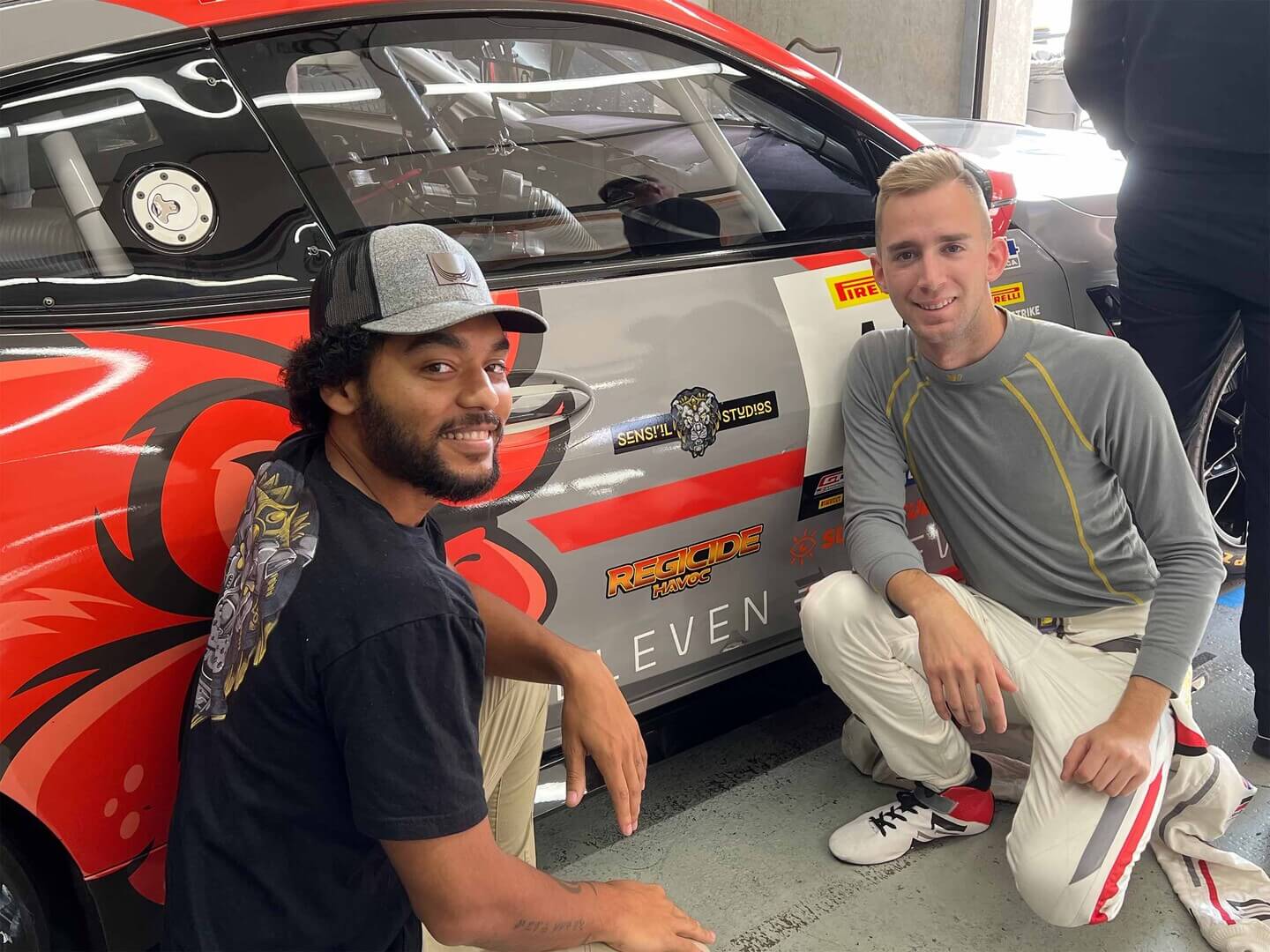 Basi White is founder of Sensiil Studios and an Iowa Army National Guard member. He says, "I met Colin after winning an 11/11 pitch competition for Veteran-Owned businesses at the Iowa Veterans Entrepreneurship Conference, and had the privilege of seeing him win the SRO TC America TCX championship in Indianapolis while he displayed my logo on his car- an honor usually only accessible to large corporations." Winning the contest inspired White to feature Garrett as a character in his new graphic novel.
Embodying the spirit of 11/11 Veteran Project, Basi now wants to pay it forward by helping more Veteran and Military Spouse-Owned businesses like his win a spot on Garrett's car. For each 500 books ordered through the crowdfunder, Colin Garrett will promote another Veteran or Military Spouse-Owned business on one of his cars in 2024. Back the crowdfunder to help out!
Winners will be chosen by lottery from members of Veterans Growing America, another Veteran-Owned business that Garrett promoted on his NASCAR Xfinity Series car in 2021.
Retired Army Command Sergeant Major Donnell Johns, founder of Veterans Growing America, was able to leverage VGA's spot on the car to reach enviable goals. Johns used the exposure for strategic brand awareness and positioning, and says, "Veterans Growing America went from doing one day events to a storefront in a premium shopping center." Their new location in Northern Virginia is adjacent to Apple and Starbucks.
The crowdfunding campaign has already attracted the attention of popular military social media influencer and comic MandatoryFunDay (Austin von Letkemann). He's now partnering with 11/11 Veteran Project to amplify the message and help reach 11/11's long term goals of promoting access to existing resources that help Veterans and military families live happy, healthy lives.
"We've been promoting Veteran-Owned businesses since 2019 but this project stands out to me as the most fun way yet to choose which businesses we promote," Garrett said. "I look forward to being able to partner with the contest winners in other original ways to grow their business while helping others. Each business we promote ends up helping their fellow businesses, which is really cool," he added.
Colin Garrett added to his history-making racing career in October by becoming the first to win a national championship while focusing on promoting causes for Veterans, military families, and the disabled. He and 11/11 Veteran Project partner with companies that want to give back to the military community by promoting access to existing resources that help them live healthy, happy lives.
Firsts from his past seasons include letting micro businesses be part of a national NASCAR marketing campaign, crowdfunding to cover expenses for a family of 4 children who lost their veteran mother to misdiagnosis of a curable illness, and running the first Braille paint scheme.
Promoting causes for the military community is made possible by Colin Garrett Racing's unique business model. He and 11/11 Veteran Project work with corporate clients to help solve critical problems like recruiting and retaining skilled employees, positioning for merger and acquisition, and marketing to military families or veteran owned small businesses. Profits generated by those B2B services pay for racing.
It's a high visibility way to promote causes important to the military community. Corporate clients win by solving real business problems while becoming part of a higher purpose.
Colin Garrett Racing is now actively looking for prospective corporate clients and partners to continue racing to promote military community causes. "The only way we can execute this mission is by being on the track racing," Garrett remarked. "That's what makes it possible to promote access to resources in such a highly visible way. We look forward to taking our mission as far as possible to help as many people as possible, and to partnering with great companies to make that happen."