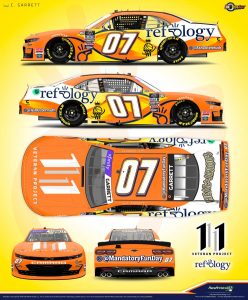 Colin Garrett and SS Green Light Racing unite for the "Pennzoil 150" at Indianapolis Motor Speedway road course Saturday August 12th.
Colin will put his skills to work in the #07 Chevrolet Camaro in his first start in the Xfinity series since 2021, with support from the 11/11 Veterans Project, Heal*Arious, MandatoryFunDay, Ashley Gutermuth, Ref-ology, and Women's PBA.
Although Colin has been away from the NASCAR scene for some time that hasn't stopped him from dominating in a different series. Colin has been running in the SRO TC American series with Rooster Hall Racing, where he has captured two wins this year, one being Sonoma and the other being COTA He has not finished outside of the top 4 in the last 8 races, which has lead him to the points lead!
July 29th, 2023 Colin was a special guest at the "Operation Heal*Arious" stand up comedy show in Fayettville NC, where Colin joined Ashley Gutermuth and MandatoryFunday on stage. Now they will be joining him on the stage at Indy!
Colin has always been a supporter of our armed forces and veterans with his 11/11 Veterans Project. 11/11 Veteran Project is a for-purpose company dedicated to increasing access to existing resources that helped veterans, military families, and the disabled live healthy, happy lives. Profit generated go to promote worthy nonprofits and small businesses. We believe that the best way to combat suicide is a holistic approach that helps improve lives financially, mentally, and physically. Colin stated "This is personal for us. The 11/11 team has generations of military service dating back to the Civil War and Revolutionary War." 11/11 Veterans Project has been very successful, and was also the first to pay for a veteran to receive stem cell treatment (treating MS caused by exposure to chemicals while on Active Duty).
Make sure you dont miss Colin Garrett in action at Indianapolis Motor Speedway! The race will be held at 5:30 pm ET Saturday August 12th on USA Network!